Raising Your Spirited Child
Overview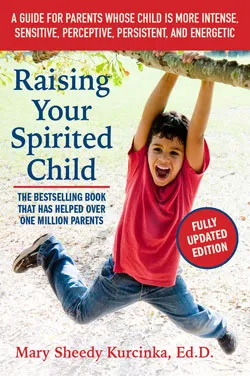 This is the parenting book you need. The one that gives you both understanding and actions that will improve life with your "Spirited Child" immediately. "Raising Your Spirited Child" has helped over one million parents just like you and is now fully revised with even more helpful insights, stories, heartfelt support and tools to empower you.
A Guide for Parents Whose Child is More Intense, Sensitive, Perceptive, Persistent, Energetic
Raising Your Spirited Child offers ALL parents a glimpse into what makes their children act the way they do. Through vivid examples and a refreshingly positive viewpoint, it offers parents emotional support and proven strategies for handling the toughest times.
Raising Your Spirited Child can help you:
plan for success with a simple, four-step program;discover the power of positive, rather than negative, labels;understand your child's and your own temperamental traits; cope with tantrums and blowups when they do occur;develop strategies for handling mealtimes, bedtimes, holidays, school, and many other situations.
---
Best seller and winner of the
Parent's Choice Award
---
What They're Saying
"Literally no one else really understood our situation and could not give suggestions that were nearly as helpful as yours. You're the first person who really could understand our son's temperament. Thank you, from one grateful mom."
"I am reading Raising Your Spirited Child and I felt I must let you know how utterly thrilled I am to have found it. It is just like reading a book devoted entirely to my three-year-old." Angie
"Thank you from the bottom of my heart for saving my family and my relationship with my son." Donna
"It is unique among the numerous parenting books out there, and right on target for me and my daughter." Donna
"I wonder how many lives have been changed as a result of this book." Betsy
"I am currently in the process of writing an article for a parenting magazine and have cited your book as being the turning point in our lives." Deb
"I knew immediately that I had found a good book. I started to cry as you described a child who can cry because their toast wasn't cut the way they were expecting it to be. Thank you from the bottom of my heart for writing this book!" Kathy
"Honestly, this has been the most helpful parenting book I have ever read. Not to mention that my husband and I found out about each other through the introvert/extrovert section." Andrea